Techné@PSDC: Digitalization for Lean Manufacturing in Electronics Industry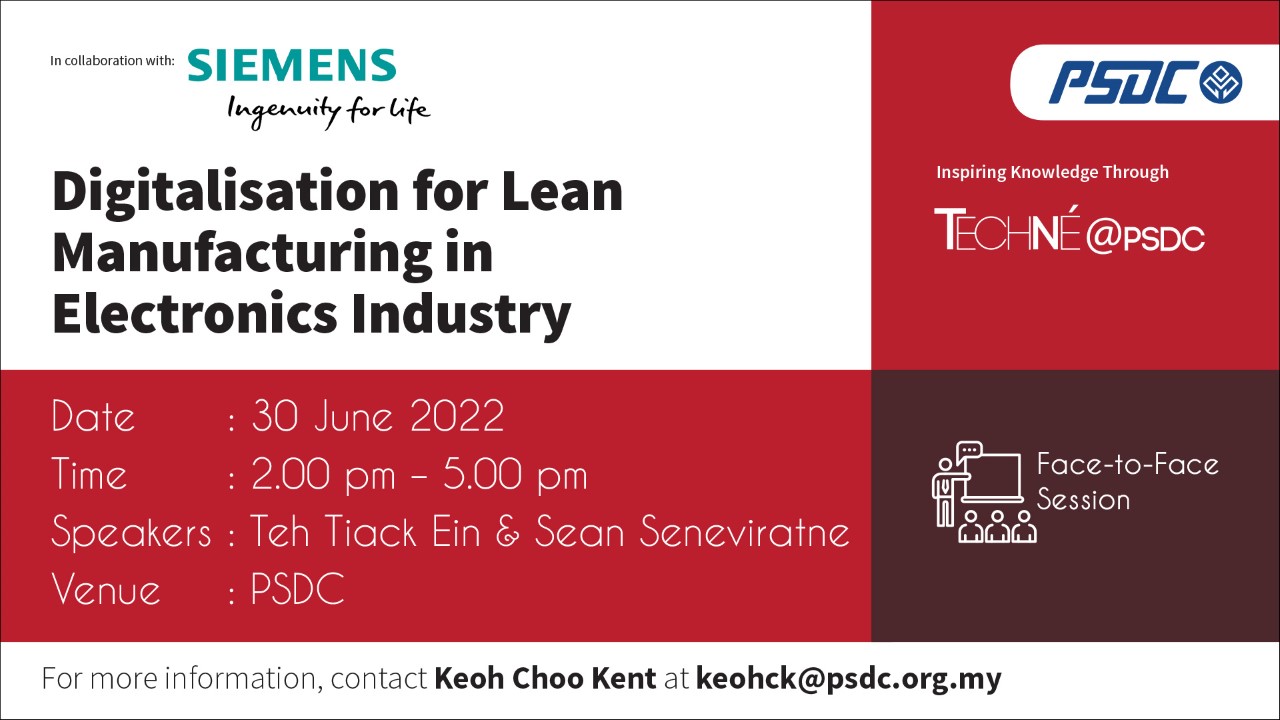 About The Event
Dealing with challenges like product complexity, personalisation, and managing unforeseen disruptions is becoming the new normal for many manufacturers. Manufacturers need to be more flexible in their processes to meet these challenges. In this seminar, we will explain what are Lean Digital Manufacturing (LDM) initiatives, how they help to address wastage in terms of defects, overproduction, queue time, inventory, and motion. Our industry experts will explain how to enable LDM in your factory, what are the benefits LDM initiatives provide, and how LDM optimises production throughput while speeding up development across the entire facility.
Key Takeaways:
· The complex challenges for manufacturers to handle products that include mechanical, embedded software, and electronics.
· The importance of rising trend of catering to customer's preferences and needs
· Benefits of using Lean Digital Manufacturing initiatives.
· Companies using Siemens' solution and the value they have achieved
· How Siemens can give you a competitive advantage
Target Audience:
· COO, Senior VP of Manufacturing
· Director Operations in Manufacturing
· Director of Quality
· Head of Engineering
· Engineers
Agenda:
1.45pm - 2.00pm
Registration
2.00pm - 2.15pm
Introduction
2.15pm - 3.30pm

Digitalization for Lean Manufacturing in Electronics Industry
Teh Tiack Ein
Presales Consultant, Siemens Digital Industries Software

3.30pm - 3.45pm
Tea Break
3.45pm - 5.00pm

Benefiting from a multi-disciplinary design approach
Sean Seneviratne
Regional Technical Manager
Siemens Digital Industries Software
Speakers' Profile:
Teh Tiack Ein
Presales Consultant, Siemens Digital Industries Software
Teh is the Presales Consultant for Siemens Digital Industries Software Company. In his 20-year career with the electronics and instrument industries, Teh has gained deep knowledge and experience implementing highly complex NPI projects involving in area of electronic, electrical, mechanical and systems engineering processes. Each project's completion resulted in connectivity, alignment and transparency from design houses, internal supply chain to external contract manufacturers, allowing each stakeholder to find, share, re-use and connect to one single source of data across various locations. During his tenure with the company, he has received multiple Global Technical Excellent Award and Best Paper Conference related to PCB System Design and Manufacturing.
Sean Seneviratne
Regional Technical Manager, Siemens Digital Industries Software
Based in Singapore, Sean is the Regional Technical Manager for the Mainstream Engineering and Product Engineering Software portfolios of Siemens Industry Software in South East Asia. With over 20 years' experience in the mechanical engineering and CAD industries, he has been involved in mechanical design, simulation as well as project management. His primary role involves working closely with product development and partner teams in the ecosystem to help businesses on their digitalisation journey.